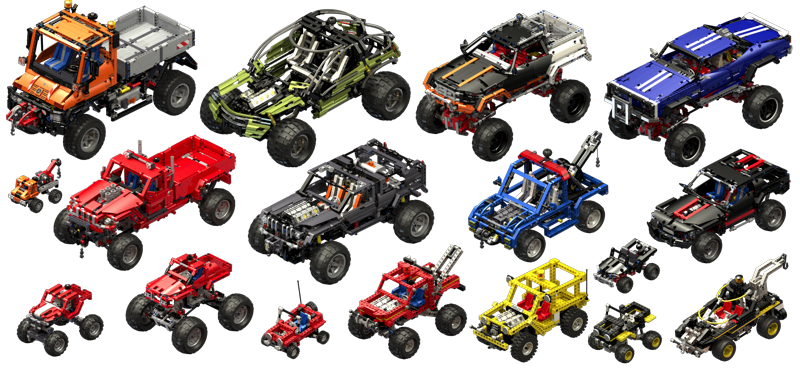 4x4's, or 4 wheel drive vehicles, can be any of a variety of off-road vehicles. They differ from buggies in that they can also be used on the road and typically have a full cabin instead of just a frame. These models vary greatly in size and complexity, but most focus on suspension as their primary feature.

As can be seen in the montage, they vary in size considerably and, interestingly, both the biggest and smallest are orange Unimogs!
8110
is the clear flagship with portal axles, a motorized winch, a pneumatic crane with motorized compressor, and incredible suspension.
8466
is the next most complex and is basically a "Super Car" with 4 wheel independent suspension, 4 wheel drive, and a transmission. There are a pair of remote controlled motorized crawlers which share the same chassis. Most of the other models are also quite capable.
8858
has a wonderfully accurate suspension system.
8297
is large and has a rather unique motorized adjustable suspension height.
Although this category is 4x4's, many of the models in this group are actually not 4 wheel drive, even those which are explicitly titled as though they are.
Feature Comparison

Set

Steering

Drive train

Suspension


Winch



Other


8066



Front crank arm
None

Front and rear trailing arm

None

None


8081



Front rack and pinion
2WD
V-4 driven by rear wheel differential
Front double wishbone, rear trailing arm
None

Manual doors, hood, and tailgate


8110



Front rack and pinion
4WD
Inline 4 driven by all 4 wheels via 3 differentials, portal axles

4 wheel sprung pendular

Front motorized

Front and rear motorized PTO, front and rear pneumatic PTO driven by motorized compressor, rear mounted crane with outriggers and pneumatic boom, opening doors, tilting cab


8261



Front crank arm

None

Front pendular, rear trailing arm

None

None

8286

Front rack and pinion

None

None

Front winch, rear hook

Trailer and helicopter


8297



Front rack and pinion

2WD
V-8 driven by rear wheel differential
4 wheel double wishbone, motorized height adjustment

Front motorized

Damped gull wing doors, LED headlights

8435

Front rack and pinion

2WD
V-6 driven by rear wheel differential

Front double wishbone, rear pendular

Front and rear

Removable body, opening hood

8466

Front rack and pinion

4WD
V-8 driven by all 4 wheels via 3 differentials, 5 speed synchronized transmission with reverse

4 wheel double wishbone

None

Damped gull wing doors

8816

Front rack and pinion

None

Rear independent trailing arm

None

None

8820

Front rack and pinion
None

Rear trailing arm

None

None

8850

Front rack and pinion
2WD
V-6 driven by rear wheel differential

None

None

None

8858

Front rack and pinion
2WD
V-6 driven by rear wheel differential

Front double wishbone with anti-sway bar, rear trailing arm

Rear

None


9390



Front crank arm
None

None

Rear

None


939

8



4 wheel rack and pinion, servo driven

4WD
Motorized with portal axles

4 wheel sprung pendular

None

Remote controlled, opening body


41999



4 wheel rack and pinion, servo driven
4WD
Motorized with portal axles
4 wheel sprung pendular

Front motorized

Remote controlled, opening body, LED headlights


42005



4 wheel rack and pinion

None

4 wheel sprung pendular
None

None


42029



Front rack and pinion
2WD
V-6 driven by rear wheel differential
4 wheel double wishbone
Front

Dumping bed via mini linear actuator, opening doors and hood