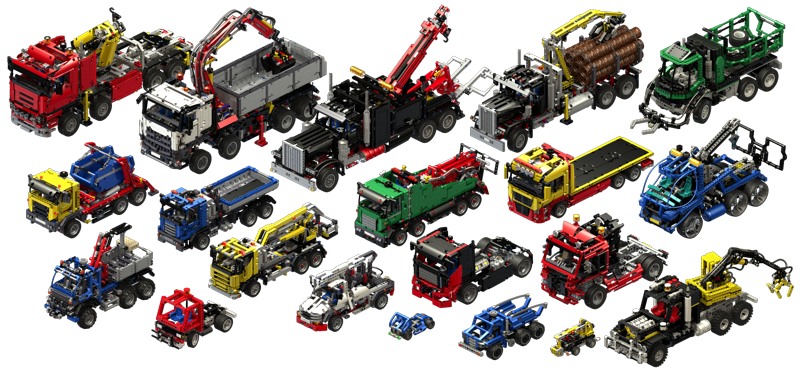 "Big Rigs" are also known in the USA as "Semi Trucks" or "Tractor - Trailers", and in the UK as "Lorries". No matter what you call them, these are large multi-axle commercial vehicles. In general, they represent the largest, most complex models that Technic has to offer. This category is unique in that every single one of these models is also in another category. The reason for this is that these trucks really have nothing in common except the basic subject matter of large trucks. Therefore, features vary widely from model to model, but all have a wide range of impressive features (except for 8433). Features range from pneumatics to dampers to crane arms to dumping beds. Several have motorized features.
Picking a favorite is very hard here. Each of these could be a favorite in its respective category.
8285
and
42043
are the biggest (barely),
8479
is the most unique and versatile, but if I could only keep one, I would pick
8868
. For the longest list of features, including the only model with suspension,
42043
is the king.
Feature Comparison

Set

Wheels

Steering

Engine

Other


8041



4 wheels, 2 axles

Front rack and pinion
V-8 driven by 1 rear axle via differential
Tilting Cab


8052



6 wheels, 3 axles
Front rack and pinion
None

Motorized container dumping and unloading


8065



4 wheels, 2 axles
None

None

Dumping bed


8071



4 wheels, 2 axles
Front rack and pinion
None

Raising and slewing personnel lift

8109



6 wheels, 3 axles
Front rack and pinion
None

Motorized tilting bed, motorized wheel lift, winch


8258



8 wheels, 4 axles

Front (2 axle) rack and pinion

V-8 driven by 1 rear axle via differential

Tilting cab, motorized outriggers, motorized rotating and luffing crane, telescoping crane, winch


8273



6 wheels, 3 axles

Front rack and pinion

None

Dumping bed, raising crane


8285



10 wheels, 3 axles

Front rack and pinion
V-6 driven by 1 rear axle via differential

Pneumatic wheel lift, rear outriggers, raising and telescoping boom winch


8292



6 wheels, 3 axles
Front rack and pinion
None

Motorized raising and slewing cherry picker, telescoping


8415



6 wheels, 3 axles
Front rack and pinion
None

Dumping bed


8433



8 wheels, 4 axles

None
None

Helicopter and trailer


8436



6 wheels, 2 axles

Front rack and pinion
V-6 driven by 1 rear axle via differential
Pneumatic raising hoist, telescoping


8462



6 wheels, 3 axles
Front rack and pinion
None

Pneumatic raising boom winch, slewing, pneumatic wheel lift


8479



6 wheels, 3 axles
Front rack and pinion
None

Motorized dumping and claw lift, programmable Code Pilot


8868



6 wheels, 3 axles
Front rack and pinion
V-6 driven by 2 rear axles via differentials
Pneumatic loader with boom, claw, and slewing, motorized compressor


8872



18 wheels, 7 axles

(including forklift)



Front rack and pinion
None

Trailer with lowering ramp and jack, forklift


9397



6 wheels, 3 axles
Front rack and pinion
Inline 4 driven by rear axle via differential

Opening hood, Motorized crane with luffing boom and jib, motorized slewing, mechanical grapple


42008



8 wheels, 4 axles
Front (2 axle) rack and pinion
None

Motorized compressor, pneumatic telescoping boom, pneumatic wheel lift, motorized boom via linear actuators, motorized outriggers via linear actuators, motorized winch


42024



6 wheels, 3 axles
Front rack and pinion
None

Container dumping and unloading via linear actuator


42031



4 wheels, 2 axles
None

None

Worm driven cherry picker


42043



12 wheels, 4 axles

Front (2 axle) linkage

Straight 6 driven by 2 rear axles via differentials

Tilting cab, motorized compressor, pneumatic loader with telescoping boom and jaws, motorized slewing, motorized dumping bed via linear actuator, motorized outriggers, all axles suspended