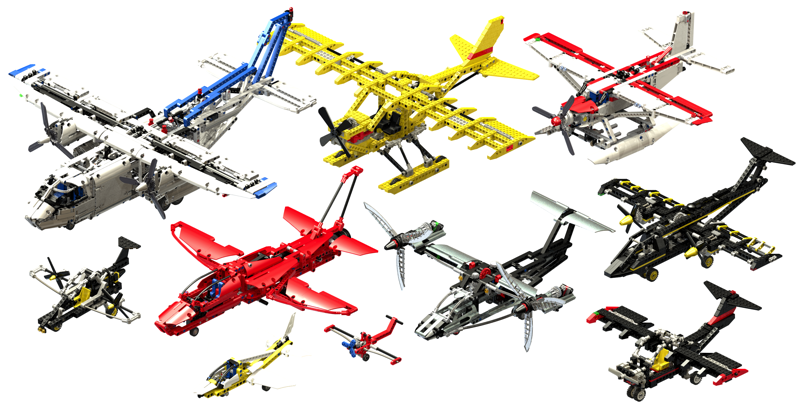 Airplanes are among my favorite Technic models, and not just because I work with airplanes for a living. These models all offer something different, and many of them feature quite realistic connections between the control stick and the flight control surfaces. Until recently there were no jets here, these are all propeller driven aircraft (
9394
is the exception). Two have engines which rotate to point vertically, one has swing wings, and two even have working trailing edge flaps!
42025
is fully motorized and by far the most complicated. Despite the wide variety of models, it is interesting to note that only a single model has a movable rudder, and that is purely manual.
My favorite was unquestionably
8855
for its realism and size, but that changed when
42025
came out.
8425
is worth mention for a really cool linkage connecting the retractable landing gear and trailing edge flaps.
Feature Comparison

Set

Ailerons

Elevators

Rudder

Flaps

Engines

Landing Gear

Other

8204

None

None (fixed horizontal T-tail)

None (fixed vertical stabilizer)

None

Single fuselage mounted propeller driven by landing gear

Fixed tail dragger

None

8222

None

None (fixed horizontal T-tail)
None (fixed vertical stabilizer)
None

Dual wing mounted propellers, manually rotating

Fixed tricycle

Wings pivot upward via worm gearbox, cockpit hatch opens

8425

Outboard gear driven

None (fixed horizontal T-tail)
None (fixed vertical stabilizer)
Trailing edge gear driven, synchronous with landing gear

Dual wing mounted propellers driven by central gear system

Retractable tricycle via gear system

None

8434

None

None (fixed horizontal T-tail)
None (fixed vertical stabilizer)
None

Dual wing mounted propellers, manually rotating
Retractable tricycle driven by spring damper

Engines pivot upwards via gear system

8836

Outboard driven by control stick

None (fixed horizontal T-tail)
None (fixed vertical stabilizer)
None

Single fuselage mounted propeller driven by 2 cylinder reciprocating engine

Fixed tricycle, rear bogie suspension

None

8855

Outboard driven by control stick
Full flying tail driven by control stick

None (fixed vertical stabilizer)
None

Single fuselage mounted propeller driven by 1 cylinder reciprocating engine
Fixed pontoon floats

None


9394



None

Full flying tail driven by control stick
None (fixed vertical stabilizer)
None

Single jet in rear

Retractable tricycle via gear system
Swing wings driven by gear system, opening canopy driven by gear system


42040



Outboard driven by control stick
Full flying tail driven by control stick
Manual

None

Single fuselage mounted propeller driven by 2 cylinder reciprocating engine
Fixed pontoon floats
Bay doors for dropping water


42025



Outboard driven by control stick
Driven by control stick
None (fixed vertical stabilizer)
Trailing edge via lever
Dual wing mounted motorized propellers
Motorized retractable tricycle gear with main gear doors
Motorized nose cargo door, motorized aft cargo door

42044



None

None (fixed horizontal T-tail)
None (fixed vertical stabilizer)
None

None

Retractable tricycle via linkage
None